A Cattleman's Honor (Originally Nelson's Brand and The Wedding in White)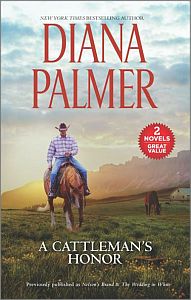 May 19, 2020
Harlequin Classics Collection Mass Market Paperback, e-Book
Anthology
New York Times bestselling author Diana Palmer delivers two classic tales of finding love when you least expect it!
Nelson's Brand
(originally published December 1990 in Silhouette Desire #681, reissued August 1997 by Silhouette, February 2014 with bonus book by Kathie Denosky, May 2014 in eBook and August 2019 in eBook by Harlequin)
When Gene Nelson discovered the truth about his family, he realized his whole life was a lie. Ever since, the rancher has been footloose and reckless, treating romantic entanglements as entertaining distractions. The minute he saw Allison Hathoway, he knew he wanted her. But there was something different about the secretive Allison…
The Wedding in White, Men of Medicine Ridge Book 2
(originally published in 2000 exclusive to eHarlequin.com as an unnumbered Silhouette Desire and then there were several reissues in mass market paperback and June 2014 in eBook by Harlequin)
Sweet schoolteacher Natalie Brock's life changed forever when she met handsome rancher Mack Killain. Ever since that first kiss, Natalie knew Mack was the only man for her. Trouble was, the rough-edged loner had sworn off marriage, and told her so on more than one occasion. But Natalie would not settle for anything less than all his love!