A Rancher for Christmas (originally The Humbug Man)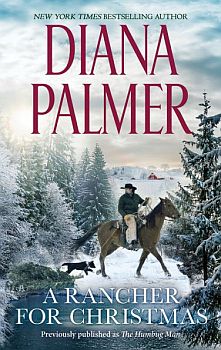 October 14, 2019
Harlequin eBook
It's a Christmas miracle in Montana a fan-favorite story from New York Times bestselling author Diana Palmer, originally published in 1987 as The Humbug Man.
This Christmas, widow Maggie Jeffries unexpectedly encounters a real-life Scrooge: Montana rancher Tate Hollister. Maggie is determined not to let her brand-new neighbor ruin her young son's holiday…even if her child adores Tate for some reason she can't fathom.
But there's more to Tate than his brusque manner. As the holiday season progressed, Maggie discovered that Tate—with his smoldering black eyes and roguish good looks—wasn't completely immune to the Christmas spirit. In fact, his loving embrace might just be the gift of a lifetime…
Originally published as The Humbug Man November 1987 within the mass market paperback editions of SILHOUETTE CHRISTMAS STORIES anthology for Silhouette Books and October 2013 within the WHITE CHRISTMAS anthology for HQN and December 2014 in eBook by Harlequin.