Any Man of Mine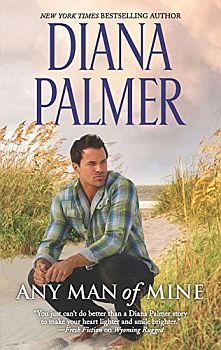 January 22, 2019
HQN Paperback & e-Book
Anthology
New York Times bestselling author Diana Palmer delivers two classic tales of unexpected love
A Waiting Game
(originally published November 1982 writing as Diana Blayne in Candlelight Ecstacy Romance #94 and reissued July 1991 in mass market paperback by Dell)
After getting her heart broken seven years ago, Keena Whitman fled town. Now she's back, and a successful designer at last. But when she sees Nicholas Coleman again, all the feelings she's tried so hard to forget come rushing back. Letting Keena go was the biggest mistake Nicholas has ever made. This time he's ready to prove he's her perfect match—in love and business.
A Loving Arrangement
(originally published January 1993 writing as Diana Blayne in Candlelight Ecstacy Romance #113 in mass market paperback for Dell)
As Greyson McCallum's longtime assistant, Abby is used to his irascibility. But when a dangerous figure from her past reappears, Greyson offers to protect her in an unexpected way and Abby can't resist. As desire ignites and danger looms, can Greyson and Abby find their happily-ever-after?