Cattleman's Choice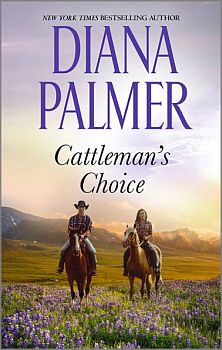 March 16, 2020
e-Book
New York Times bestselling author Diana Palmer delivers a fan-favorite tale of opposites attract, originally published in 1985.
Carson Wayne has shown up on Mandelyn Bush's doorstep with the ultimate request: to teach him how to treat a lady. No doubt he's asked the right person—Mandelyn is as polished and refined as Carson is rough and reclusive. And she's the only person who can reason with him when his temper gets the better of him.
Mandelyn finds the challenge of turning Carson into a gentleman too intriguing to turn down. She suspects that he might just be a sensitive man beneath that hardened shell, but she's never counted on her own growing feelings for the irresistible rebel.
Originally published March 1985 in Silhouette Desire #183 in mass market paperback; August 2005 in mass market paperback by MIRA; and May 2014 in eBook by Harlequin.