Crazy For Cowboys Collection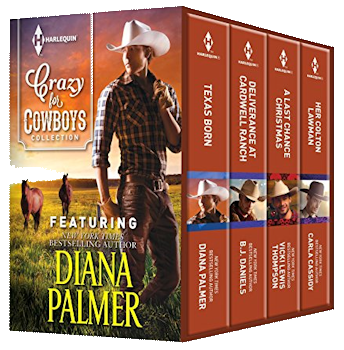 December 15, 2014
e-Book
Box Set
New York Times bestselling authors Diana Palmer, B.J. Daniels, Vicki Lewis Thompson and Carla Cassidy deliver four sexy cowboy heroes for one amazing box set!
TEXAS BORN by Diana Palmer (Long, Tall Texans)
Rancher Gabriel Brandon rescued an orphan years ago from sure ruin and became her hero. Now she's blossomed into a woman who must cast aside the shadows between them to prove their Lone Star love is true.
DELIVERANCE AT CARDWELL RANCH by B. J .Daniels (Cardwell Cousins)
Deputy sheriff Austin Cardwell rescues a woman who has no memory of who she is or what she was fleeing. As desire builds between them, he vows to uncover her identity…before her past destroys any hope of a future.
A LAST CHANCE CHRISTMAS by Vicki Lewis Thompson (Sons of Chance)
Ben Radcliffe has a good reason to avoid serious relationships. But when the lone cowboy delivers a "secret" present to the Last Chance Ranch, he catches a glimpse of what family could be…with a stunning woman by his side.
HER COLTON LAWMAN by Carla Cassidy (The Coltons: Return to Wyoming)
Police chief Flint Colton is determined to keep his witness to a murder safe. After ordering her into protective custody, the attraction between them grows—but he'll put himself in the line of fire before he ever lets her down.