Rogue Stallion & Need Me, Cowboy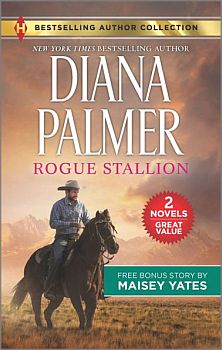 Montana Mavericks Book 1
March 31, 2020
Harleqin Mass Market Paperback, e-Book
Anthology
BESTSELLING AUTHOR COLLECTION
Reader-favorite romances in collectible volumes from our bestselling authors.
Rogue Stallion by Diana Palmer
BIG SKY SHERIFF
Deputy sheriff Sterling McCallum doesn't want a women in his life. Yet when caring social worker Jessica Larson asks for his help looking for the mother of an abandoned baby, Sterling can't refuse.
Jessica has dedicated her life to helping people. Despite cynical Sterling's stern warnings, she can't back off. The brooding rogue cop has a stone in place of a heart and a past as mysterious as the case that brings them together. Something compels Jessica to stand her ground and brave the emotions this fascinating man arouses within her. But when their darkest secrets and deepest desires come to the surface, can Jessica and Sterling weather these earth-shattering revelations?
FREE BONUS STORY INCLUDED IN THIS VOLUME; Need Me, Cowboy by New York Times bestselling author Maisey Yates (originally published April 2019 in Copper Ridge series in Harlequin Desire #2653 in mass market paperbck by Silhouette Books).
Rogue Stallion was originally published August 1994 and reissued numerous times in mass market paperbck by Silhouette Books.
Other Books in the Montana Mavericks Series