Kiss Me, Cowboy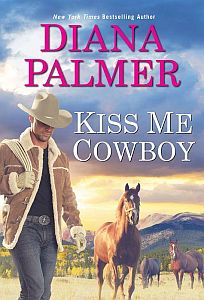 March 29, 2022
Paperback, eBook
Box Set
New York Times bestselling author Diana Palmer takes readers to Colorado in two novellas where solitary, silent cowboys find their restless hearts tamed by women of uncommon grace and strength . . .
The Rancher's Wedding
(originally published March 2019 within Marrying My Cowboy anthology in MMPB & eBook and November 2020 as a standalone eBook)
When a tough Colorado rancher who's in the red meets up with a screenwriter-turned-waitress dogged by scandal, they put their talents—and their hearts—together. But will front page news put a damper on the sparks flying between them?
Colorado Cowboy
(originally published April 2021 within Lone Wolf anthology in mass market paperback & eBook)
Fleeing her mother's killer, Esther Marist ends up at a rugged stranger's cabin. A wildlife rehabilitator with a menagerie that includes an elderly wolf, Matthews isn't the type to turn any creature away. As Esther heals, she realizes how much danger she's brought to his door—and how far he'll go to protect her.