Lone Wolf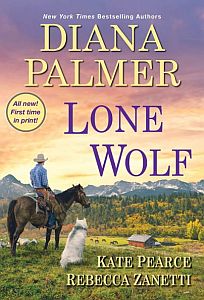 April 27, 2021
Zebra Mass Market Paperback, e-Book
Anthology
Loyal as a wolf—and just as strong and untamed—three solitary heroes are about to meet their perfect partners, in this thrilling collection from a trio of New York Times bestselling authors . . .
COLORADO COWBOY by DIANA PALMER
Fleeing her mother's killer, Esther Marist ends up at a rugged stranger's cabin. A wildlife rehabilitator with a menagerie that includes an elderly wolf, Matthews isn't the type to turn any creature away. As Esther heals, she realizes how much danger she's brought to his door—and how far he'll go to protect her.
Also includes RESCUE: COWBOY STYLE by REBECCA ZANETTI and THE WOLF ON HER DOORSTEP by KATE PEARCE.