Long, Tall Texans Series Books 7-9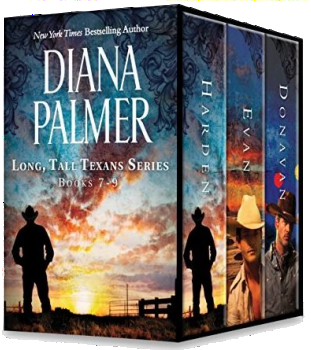 Long, Tall Texans
June 1, 2016
e-Book
Box Set
Join New York Times bestselling author Diana Palmer as she revisits three fan-favorite Long, Tall Texan tales!
HARDEN (originally published September 1991 in Silhouette Romance #819 in mass market paperback)
Rancher Harden Tremayne was the toughest, loneliest man to come out of Texas. Until he met Miranda Warren…
The lovely widow had never felt anything as overwhelming as her passion for the long, lean cowboy. But after she discovered the tragic secret he harbored deep in his soul, would her love be enough to melt his heart?
EVAN (originally published January 1992 in Silhouette Romance #843 in mass market paperback)
Ever since she could remember, Anna Cochran had been in love with tall, quiet Evan Tremayne. But he was so focused on protecting her from rough-and-tumble cowboys like him that he wouldn't acknowledge the fierce yearning she awoke in him. So it was up to Anna to draw Evan out of his shell and prove that she was the only woman for him!
DONAVAN (originally published January 1993 in Silhouette Romance #910 in mass market paperback)
From the moment gorgeous Fay York walked into the bar on the wrong side of town, rugged Texan Donavan Langley knew she was trouble. But she awoke a tenderness in him that he'd never known…and a desire for something he could never have.
The instant Fay gazed into Donovan's eyes, she fell for him. And it wasn't such a big step from need to love…
Other Books in the Long, Tall Texans Series