Miss Greenhorn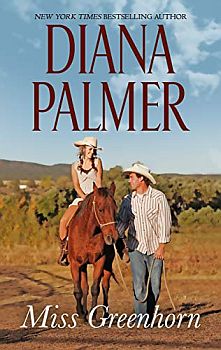 July 15, 2019
e-Book
New York Times bestselling author Diana Palmer delivers a reader-favorite tale of Prince Charming on the range.
When Christy Haley moves to Arizona, she never expects to meet an irascible, yet irresistible, ranch owner. The blonde teacher can't help but be drawn to handsome Nate Lang, who makes it clear he isn't looking for love. But Christy will have to dig a little deeper to find the rancher's true desires…
The last thing Nate needs is an East Coast innocent who doesn't know a cactus from a cornstalk! But Christy has already unearthed his passion…and discovered her rugged Westerner is a greenhorn himself—at love.
Originally published June 1990 within the Silhouette Summer Sizzlers anthology (with Sherryl Woods and Patricia Coughlin) in mass market paperback and August 2015 in eBook by Harlequin.