Montana Protector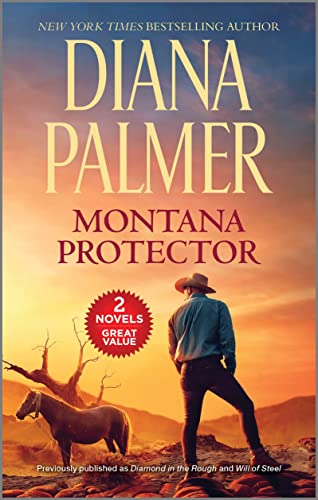 November 30, 2021
Enjoy two classic Western romances from New York Times bestselling author Diana Palmer!
Diamond in the Rough
Sassy Peale is desperate to help her family, but her salary doesn't stretch far. Then she meets ranch hand John Callister. But John is really a millionaire from one of Montana's most powerful families! And when Sassy finds out who he really is, John has to convince Sassy that he's the man she first thought he was—a rugged and honest-to-God cowboy.
Will of Steel
Police chief Theodore Graves of Medicine Ridge, Montana, wants to keep his uncle's ranch in the family instead of having it sold to developers. But the ranch was co-owned by Jillian Sanders's uncle, and with no family left, it's the only home she has. Even as the sparks fly between them, Ted finds himself caring for Jillian. Can the man with a will of steel finally learn what it means to bend?
New York Times Bestselling Author Diana Palmer
Previously published as Diamond in the Rough and Will of Steel