The Reluctant Father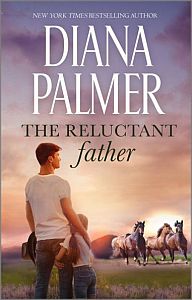 Blake Donovan Book 2
December 14, 2020
Harlequin e-Book
Revisit a tale of unexpected family and love from New York Times bestselling author Diana Palmer.
Blake Donavan is a loner, and he likes it that way. There's no room in his life for love …that is, until a little girl shows up on his doorstep and calls him "Daddy"! As a bewildered Blake struggles to come to terms with newfound fatherhood, he's thrown for another loop. The woman he loved and lost, Meredith Blake, is back in town. And there might just be a chance for Blake and Meredith to give family a second chance…
Originally published January 1989 in Silhouette Desire #469 in mass market paperbzck and May 2015 in eBook.
Other Books in the Blake Donovan Series