Simon and Callaghan (Originally Beloved and Callaghan's Bride)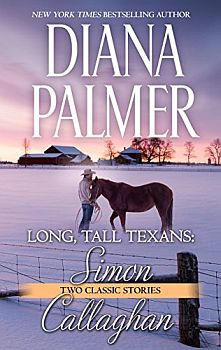 Long, Tall Texans Book 19 & 20
August 27, 2018
Harlequin e-Book
New York Times bestseller Diana Palmer weaves two fan-favorite tales of Long, Tall Texans falling in love.
Simon
(originally published January 1999 as Beloved in Silhouette Desire #1189 in mass market paperback and July 2011 in eBook by The Essential Collection)
After losing his wife years earlier, rancher-lawyer Simon Hart has no interest in women. The last thing he wants to do is fall in love, but he is unexpectedly thrown for a loop when he clashes with his best friend's ex. Beguiling Tira Beck brings out a softer side of Simon, but will the sparks flying ignite into a blaze of love?
Callaghan
(originally published March 1999 as Callaghan's Bride in Silhouette Romance #1355 in mass market paperback and April 2011 in eBook by The Essential Collection)
Gruff cowboy Callaghan Hart has met his match in his ranch's new housekeeper, beautiful innocent Tess Brady. The redhead is soft and sweet, and her youthful charm draws him like a moth to a flame. But there's no way Callaghan will ever consider marriage, and a casual fling is out of the question. Somehow, he has to resist her, no matter how tempting she is…
Other Books in the Long, Tall Texans Series