Texas Born & Maggie's Dad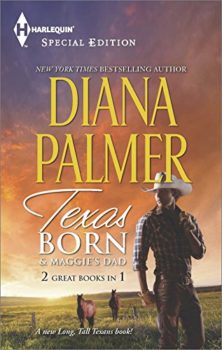 September 30, 2014
Paperback
Box Set
Their love was born in Texas…
TEXAS BORN (originally published October 2014 in Harlequin Special Edidion #2359)
Gabriel Brandon had been her hero ever since she was a girl and he'd rescued her, an orphan, from sure ruin. And Michelle Godrey had loved him forever, the mysterious rancher with the dark eyes, her protector and guardian angel. Now she'd blossomed into a woman. Could Michelle ever cast aside the shadows between them? Could she show Gabriel that their Lone Star love was true?
Don't miss the classic tale by Diana Palmer, included here:
MAGGIE'S DAD (originally published November 1995 in Silhouette Special Edition #991 and numerous reissues)
Hot-tempered rancher Powell Long had once stolen Antonia Hayes's heart. But their young love had been torn asunder, and Antonia fled. But now she's back, finding Powell raising a daughter alone. Fatherhood hasn't diminished the helpless attraction she feels whenever he is near. Is taking a chance at a future family with Powell simply too irresistible?