The Cowboy Code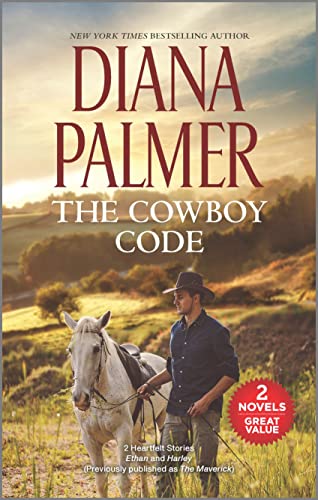 December 26, 2023
Harlequin
Enjoy two classic Lone Star romances from New York Times bestselling author Diana Palmer!
Ethan
Arabella Craig was eighteen when she first fell for Ethan Hardeman…and he turned around and married another woman. Four years later, tragedy brings Ethan, still just as tall and handsome, back into her life. He runs his family's cattle empire with an iron hand, and keeps just as tight a grip on the reins holding back his heart. But Arabella is determined not to let this Long, Tall Texan escape her again!
Harley
Cool, composed rancher Harley Fowler finds his world turned upside down when a beautiful whirlwind bumps into him. Investigator Alice Jones has come to Jacobsville, Texas, to solve a deadly mystery, and all too soon, Harley finds himself square in the middle of her case. But sparks fly between the cowboy and the beautiful brunette, leading them to wonder which will win out—true love or a dangerous threat?
New York Times Bestselling Author Diana Palmer
2 Heartfelt Stories Ethan and Harley (Previously published as The Maverick)