Wyoming Bold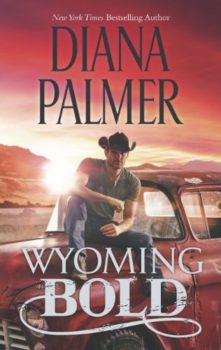 Wyoming Men Book 3
October 29, 2013
Paperback, Audio, e-Book
New York Times and USA TODAY bestselling author DIANA PALMER is back with a thrilling new story featuring the Kirk brothers of Wyoming.
Former border agent Dalton Kirk thought his life was over—literally—when a gang of smugglers left him for dead. Defying all odds, he survives his ordeal and returns to his Wyoming ranch ready to dedicate his future to a more peaceful home on the range. Until lovely Merissa Baker knocks on his door.
Merissa is well aware of her reputation as the local eccentric—she knows things before they happen—and she's had a vision that Dalton is in danger. Even though her beliefs clash with Dalton's cowboy logic, she's determined to save the handsome rancher she's secretly loved forever.
Visions? It's all ridiculous to Dalton…until things start happening that prove Merissa right. And now Dalton is not the only target—so is Merissa. Can Dalton be bold enough to trust the unknown? Is this Wyoming man ready to love?
Other Books in the Wyoming Men Series