Montana Mavericks Weddings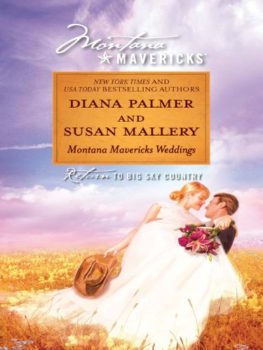 Montana Mavericks
September 1, 2011
e-Book
Anthology
The Bride Who Was Stolen in the Night by Diana Palmer
Young, innocent Abby Turner is determined to marry Mr. Absolutely Wrong…until her childhood crush rides back into her life. Chayce Derringer has deliberately kept his distance from Abby, but can he bear to watch her walk down the aisle with another man?
Cowgirl Bride by Susan Mallery
Lady wrangler Sierra Conroy gave up on love the day Dylan McLaine broke her heart. And over the years, she's convinced herself she doesn't need it. But the heartbreakingly handsome Dylan is back in town, and he's determined to change her mind—fast!
Originally published March 1998 by Silhouette Books in mass market paperback, but also included a story by Ann Major that is not in the new edition.
Other Books in the Montana Mavericks Series