Night of Love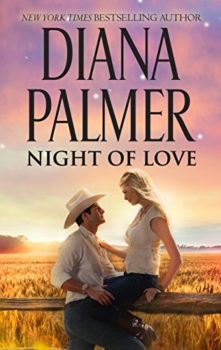 Men of the Hour Book 1
September 14, 2015
e-Book
New York Times bestselling author Diana Palmer delivers a fan-favorite tale of second-chance passion and redemption in NIGHT OF LOVE!
Steven Ryker has always made it clear that he's never needed a woman to make his life complete. But that is the farthest thing from the truth. Once, he gave beautiful Meg Shannon his love, but she chose a life without him over a future together. Now that Meg is back in town, though, this bachelor refuses to get burned again. But where there are sparks, there is the flame of love, just waiting to be rekindled…
To save her struggling dance company, Meg must accept an unthinkable offer from Steven, whom she thought betrayed her long ago. The last thing she wants is to put her heart in the hands of the one man no female, even her, can resist. But will it cost her more to trust Steven… to deny the irresistible passion reigniting between them?
Originally published July 1993 in Silhouette Desire #799 in mass market paperback.
Other Books in the Men of the Hour Series