Will of Steel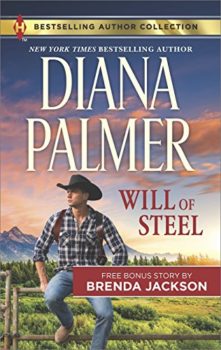 Men of Medicine Ridge Book 4
February 28, 2017
Bestselling Author Collection Paperback, e-Book
A MAN OF STEEL
It takes a hard and determined person to be a rancher in Medicine Ridge, Montana. No man is harder than police chief Theodore Graves, and no man is more determined to keep his uncle's ranch in the family instead of being sold to developers—but one woman might be.
The ranch was co-owned by Jillian Sanders's uncle, and she's just as resolved to stay on the ranch. The only problem is she and Theodore fight like cats and dogs. And their uncles' wills stipulate that in order to keep the land, they must be married…
FREE BONUS STORY INCLUDED IN THIS VOLUME: Texas Wild by New York Times bestselling author Brenda Jackson
Will of Steel was originally published December 2010 in Silhouette Desire #2054.
Other Books in the Men of Medicine Ridge Series