The Morcai Battalion: The Recruit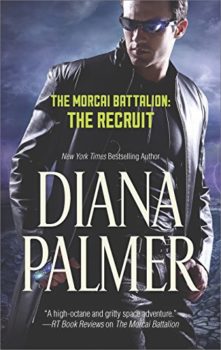 Morcai Battalion Book 2
November 25, 2014
Paperback, Audio, e-Book
Three years after the unprovoked attack on a peaceful colony, the war between the Rojok dynasty and the Tri-Galaxy Fleet rages on. Born of that war is the Morcai Battalion, a fleet comprised of Centaurians and humans—the first collaboration of its kind and a step toward an intergalactic alliance. But the fragile union is tested as their courageous commander in chief, Dtimun, is faced with the temptation of the forbidden—and human—Dr. Madeline Ruszel.
A combat surgeon, Ruszel is aware of the danger of inciting a Centaurian's interest, even if he is the most intriguing of men. Besides putting their mission at risk, personal relations between their kinds are still outlawed. But a prophecy that touches on both their lives and the future of all alien nations hints that a greater unity may be theirs for the taking…if they, and their crew, survive in the battle for peace.
Originally published November 2009, writing as Susan Kyle, in eBook format for Luna Books.
Other Books in the Morcai Battalion Series