The Morcai Battalion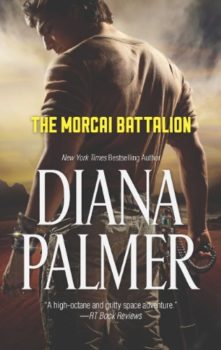 Morcai Battalion Book 1
June 25, 2013
Paperback, e-Book
Drama and excitement explode in New York Times bestselling author DIANA PALMER's legendary first book in The Morcai Battalion series, now available in paperback, as a new expanded version.
In the very dream of peace lurked a monstrous treachery.
The galaxy is on the brink of disaster, a long-awaited truce torn apart by an unprovoked attack. The colony whose residents represented more than a hundred planets has been destroyed, and the new vision for unity in the universe is at risk. Faced with a war that would mean destruction and chaos, one man has stepped forward to lead those fighting for their lives. Undeterred by insurmountable odds, his courage inspires a team—the Morcai Battalion—to battle for the cause of peace…and love.
Originally published in 1980 by Manor Books, writing as Susan S. Kyle and reissued December 2007 by Luna in hardcover and October 2009 in eBook, writing as Diana Palmer.
Other Books in the Morcai Battalion Series