The Morcai Battalion: The Rescue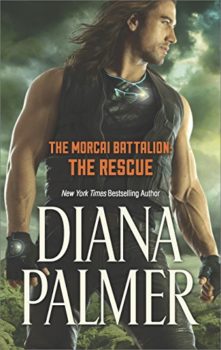 Morcai Battalion Book 4
March 28, 2017
Paperback, Audio, e-Book
New York Times bestselling author Diana Palmer returns with the next edge-of-your-seat installment of The Morcai Battalion series.
Rhemun, commander of the Cehn-Tahr Holconcom, has worked tirelessly to get where he is—and he's not going to let any human drag him back down. Especially not Lt. Commander Edris Mallory, whose very presence aboard the Morcai serves as a too-painful reminder of a past tragedy he can neither forgive nor forget.
But Mallory has secrets of her own—ones she can't afford to see come to light. Frantic to protect herself, she flees, abandoning her position. When Rhemun learns of her devastating situation, he realizes the all-consuming feelings he's harbored for her may not be hatred. But in a vast universe rife with peril, is it already too late?
Other Books in the Morcai Battalion Series