The Last Mercenary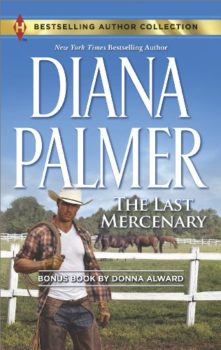 Soldiers Of Fortune Book 6
May 27, 2014
Paperback, e-Book
The Last Mercenary by Diana Palmer (originally published September 2001 in Silhouette Special Edition #1417)
PRIVATE PROTECTOR
Micah Steele was a mystery, as silent as stone and just as intractable. Not even those closest to him knew the details of his life—which was exactly how it had to be. Because Micah was a mercenary, and his lies protected those he loved. Or they had, until the young beauty he'd left behind in Jacobsville, Texas, was kidnapped by his sworn enemy.
Micah was prepared to go to the ends of the earth to rescue Callie Kirby. But he wasn't prepared for her sweet innocence to be more dangerous than the evil he hunted. He could protect Callie from ruthless drug lords, but who would protect her from Micah?
Includes bonus book: Her Lone Cowboy "Cowboys & Confetti" by Donna Alward which was originally published March 2010 in Harlequin Romance #4158.
Noah Laramie has come back home to run Lazy L Ranch. Injured and now out of the army, he wants to shut himself off from the world.
Lily Germaine is just there to help him, but loner Noah is the most stubborn-as-a-mule man she's ever met. Losing an arm doesn't mean he has to lose sight of who he is. His courage, strength and loyalty make him one in a million. She just needs to convince him of that….
Other Books in the Soldiers Of Fortune Series