Soldiers of Fortune Series Books 1-3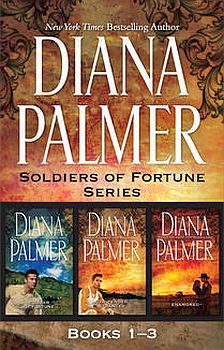 Soldiers Of Fortune
April 20, 2015
e-Book
Box Set
From New York Times bestselling author Diana Palmer come three fan-favorite tales of passion, peril and true love…
Soldier of Fortune (originally published February 1985 in Siloutee Romance #340 and reissued numerous times)
Ex-mercenary J. D. Brettman has vowed to rescue his abducted sister at any cost. But he needs his trusty assistant, Gabby Darwin. In the lawless tropical forests, they share danger and desire. There, Gabby faces J.D.'s demons—and learns that her love is his truest enemy of all.
The Tender Stranger (originally published September 1985 in Siloutee Desire #230 and reissued numerous times)
As a mercenary, Eric Van Meer lives life on the edge—which is why Dani St. Clair intrigues him so. The gentle beauty poses a threat to his hard-fought control. Eric knows Dani is a forever kind of woman…so he proposes. And all the danger in his life is nothing compared to what his heart faces when she accepts!
Enamored (originally published April 1988 in Siloutee Desire #420 and reissued numerous times)
Diego Laremos never forgot his ex-wife, Melissa, who fled their unhappy marriage. He loathes himself for driving her away, but when Melissa reenters his life, his hope for a future with her is renewed. And while Melissa still adores Diego, she has to come clean about a long-ago lie to prove that she's still his one true love.
Other Books in the Soldiers Of Fortune Series