Bentley and Rick (Originally Tough to Tame and True Blue)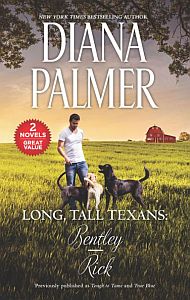 Long, Tall Texans Book 40 & 42
June 2, 2020
Harleqin Mass Market Paperback
Anthology
This special collection features stories from Palmer's successful miniseries Long, Tall Texans.
Bentley
(originally published April 2010 as Tough to Tame in Harlequin Romance #4159 in mass market paperback and eBook and July 2020 as Bentley in eBook by Harlequin)
Gruff Dr. Bentley Rydel tends some of the sickest animals in Jacobsville, Texas. Working for the ruggedly handsome doctor allows Capella "Cappie" Drake a peek inside Bentley's closed-off heart—but the last thing she needs is a man in her life. The innocent insists she's not ready for a man like Bentley, but the sizzling attraction between them is impossible to resist. But can both Cappie and her irresistible boss let down their guards for the love of a lifetime?
Rick
(originally published December 2011 as True Blue in Harlequin Special Edition #2155 in mass market paperback and eBook and December 2019 as Rick in eBook by Harlequin)
San Antonio detective Rick Marquez never met a case he couldn't solve or a woman he couldn't charm. That is, until Gwen Cassaway joins his squad. Sparks fly as the two law enforcement agents butt heads over every case that crosses their desks. Before long, the seemingly innocent Gwen has lassoed the smooth-talking sergeant's heart—but will deep-rooted secrets ruin a blossoming romance?
Other Books in the Long, Tall Texans Series