Heartbreaker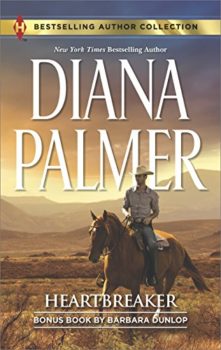 Long, Tall Texans Book 30
February 24, 2015
Bestselling Author Collection Paperback, Audio, e-Book
STONE-COLD COWBOY
Wealthy Texas cattle rancher J. B. Hammock was proud of his reputation as a heartbreaker. He treated his women well, but they all knew they would never have a permanent status in his life—all but one. Innocent Tellie Maddox had been just a girl when she'd been orphaned and had come to live with his family. She was fiercely devoted to J.B., but when that devotion turned into something passionate between them, J.B. knew he had to break yet another heart.
Tellie hated him for that—until she lost her memory in an accident. Now all she remembered was the closeness she and J.B. once shared. He didn't want to hurt her all over again, but it quickly became clear that there was too much fire between him and Tellie for them to ever just be friends. And the deeper their feelings grew, the more J.B. feared the inevitable return of Tellie's memory…
Heartbreaker was orginally published September 2006 in Silhouette Desire #1748 and reissued May 2008 in Silhouette Desire.
BONUS BOOK INCLUDED IN THIS VOLUME: In Bed with the Wrangler by USA Today bestselling author Barbara Dunlop
Other Books in the Long, Tall Texans Series