Regan (Originally Regan's Pride)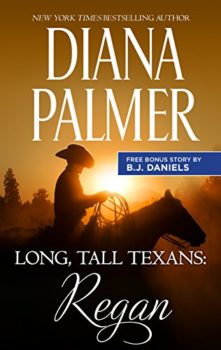 Long, Tall Texans Book 11
February 26, 2018
Harlequin e-book
Fall in love with those LONG, TALL TEXANS in REGAN from New York Times bestseller Diana Palmer, originally published as REGAN'S PRIDE in 1994, and SECOND CHANCE COWBOY from New York Times bestseller B.J. Daniels, originally published in 2008.
Two sexy cowboys, two second chances at a happily ever after.
In REGAN, Ted Regan has a second chance with his first love—if his pride will allow him to forgive a mistake she made long ago. And in SECOND CHANCE COWBOY, Hank Monroe could be the one cowboy in Whitehorse, Montana, who can track down Arlene Evans missing daughter—which could be complicated when his own past comes knocking.
These rough-riding men might have storied pasts, but when it comes to protecting the women they love, nothing is going to stand in their way.
Also includes free bonus story: Second Chance Cowboy by B. J. Daniels (originally published May 2008 in Harlequin Intrigue #1059 and February 2018 within Long, Tall Texans Collection Volume 4)
Regan originally published April 1994 in Silhouette Desire #1000 as Regan's Pride in mass market paperback and reissued April 2011 in eBook by Harlequin Essential Collection.
Other Books in the Long, Tall Texans Series