Tyler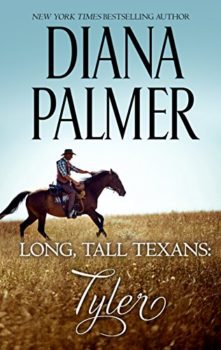 Long, Tall Texans Book 3
July 17, 2017
e-Book
With only a quick glance at Nell Regan, a man might miss the beauty in the shy face, or the sexy figure hidden beneath the shapeless clothes. Nell had learned the hard way that she had nothing to offer a man. Her future was here, running her Arizona dude ranch…alone.
Then Tyler Jacobs arrived…a man who knew what it was like to be alone and alienated. He yearned to kiss away the pain he saw in Nell's deep brown eyes.
But Nell wasn't about to mistake kindness for love. Not again. Yet would denying her own desire destroy her one chance for happiness?
Originally published October 1988 in Silhouette Romance #604 and reissued in several editions of Long Tall Texans (3-in-1 anthology with Calhoun and Justin) by Silhouette.
Other Books in the Long, Tall Texans Series