Bentley (Originally Tough to Tame)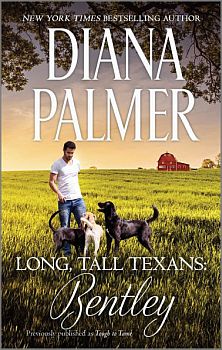 Long, Tall Texans Book 40
January 13, 2020
HQN eBook
Don't miss this fan-favorite tale of love on the range from New York Times beststselling author Diana Palmer, originally published in 2010 as Tough to Tame.
Gruff Dr. Bentley Rydel tends some of the sickest animals in Jacobsville, Texas. Working for the ruggedly handsome doctor allows Capella "Cappie" Drake a peek inside Bentley's closed-off heart—but the last thing she needs is a man in her life. The innocent insists she's not ready for a man like Bentley, but the sizzling attraction between them is impossible to resist. But can both Cappie and her irresistible boss let down their guards for the love of a lifetime?
Originally published April 2010 as Tough to Tame in Harlequin Romance #4159 in mass market paperback and eBook.
Other Books in the Long, Tall Texans Series