Long, Tall Texans Collection Volume 6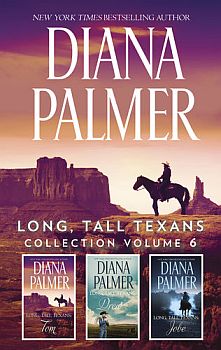 Long, Tall Texans Novellas 14a, 14b & 14c
July 16, 2018
Harlequin eBook
Box Set
New York Times bestselling author Diana Palmer revisits three unforgettable tales of love between three lonesome Texas bachelors and the spirited women who lasso their hearts
Tom
(originally published May 1997 within A Long, Tall Texan Summer in mass market paperback by Silhouette and July 2011 within A Long, Tall Texan Summer in eBook for Harlequin Essential Collection and June 2018 in eBook for Harlequin)
Jacobsville newcomer Tom Walker gives the impression that he's a love-'em-and-leave-'em type, never eager to entrust his heart to a woman. But Elysia Craig soon finds out that's far from the truth. In fact, once love lassoes Tom's heart, he will never let go.…
Drew
(originally published May 1997 within A Long, Tall Texan Summer in mass market paperback by Silhouette and July 2011 within A Long, Tall Texan Summer in eBook for Harlequin Essential Collection and June 2018 in eBook for Harlequin)
Dr. Drew Morris hasn't looked for love since the loss of his beloved wife. The faithful widower doesn't know what hit him when Kitty Carson lands as his assistant. Can unexpected passion heal the good doctor's heart?
Jobe
(originally published May 1997 within A Long, Tall Texan Summer in mass market paperback by Silhouette and July 2011 within A Long, Tall Texan Summer in eBook for Harlequin Essential Collection and July 2018 in eBook for Harlequin)
No one expects heartbreaker cowboy Jobe Dodd to settle down and take a wife. Sandy Regan takes that as a challenge, determined to make the rugged rancher her own. This unexpected love on the range might just tame Jobe for good.
Other Books in the Long, Tall Texans Series