The Maverick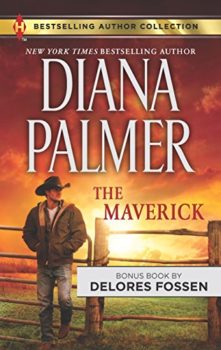 Long, Tall Texans Book 38
February 1, 2016
Bestselling Author Collection Paperback, e-Book
The Maverick "Long, Tall Texans" by Diana Palmer (originally published December 2009 in Silhouette Desire #1982)
A COWBOY'S PURSUIT
Rancher Harley Fowler had a knack for getting himself out of trouble—until trouble runs right into him in the form of whirlwind investigator Alice Jones. Alice has been called to Jacobsville, Texas, after a man's body is discovered. And when her investigation leads her straight back to Harley, he knows this is one fight he has to win.
Alice doesn't need help from anyone, particularly a long, tall Texan. And when the friendly cowboy's smile starts to distract her from her work, there's only one thing to do—convince him to marry her.
BONUS BOOK INCLUDED IN THIS VOLUME!
Grayson by USA TODAY bestselling author Delores Fossen originally published November 2011 in Harlequin Intrigue #1314)
Sheriff Grayson Ryland promises to protect his old flame Eve Warren. But keeping Eve safe proves almost impossible when they are caught up in a dangerous murder investigation—and an even more dangerous liaison…
Other Books in the Long, Tall Texans Series