Matt Caldwell: Texas Tycoon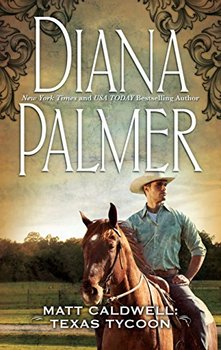 Long, Tall Texans Book 19
January 18, 2016
e-Book
Enjoy a tale of true Texas love in New York Times bestselling author Diana Palmer's reader-favorite story, Matt Caldwell: Texas Tycoon!
Matt Caldwell must be the hardest-hearted man in the Lone Star State. The last thing he wants to do is open up to a woman—let alone trust her! —and risk getting hurt. So he's sworn off spending any time with a member of the fairer sex…until his beautiful new assistant walks through the office door. What's a mogul to do?
On the run from her past, Leslie Murray is in need of a protector, stat. And her new boss might just be the one who can guard her present—and protect her future. But when Leslie suddenly finds herself in Matt's strong arms, she wonders if she could be the one to knock down the bachelor's protective walls and finally bring love to this long, tall Texan.
Originally published January 2000 in Silhouette Special Edition #1297 mass market paperback and November 2014 in eBook.
Other Books in the Long, Tall Texans Series