Boone (Originally Heart of Stone)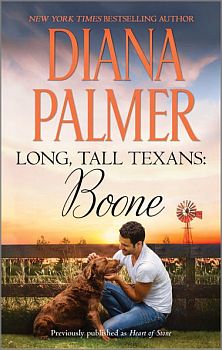 Long, Tall Texans Book 36
February 10, 2020
eBook
Diana Palmer delivers a classic tale of cowboy love with Long, Tall Texans: Boone.
Rancher Boone Sinclair is the ultimate Long, Tall Texan—reticent, noble and blessed with a Texas-size stubbornness. He's always been beguiled by the lovely Keely Welsh, but he's kept his distance to protect her innocence. Yet Keely's no longer a girl who needs his protection. In fact, she's a woman out to win his heart…
Originally published September 2008 as HEART OF STONE in Silhouette Special Edition #1921.
Other Books in the Long, Tall Texans Series