Coltrain and Marshall (Originally Coltrain's Proposal and The Princess Bride)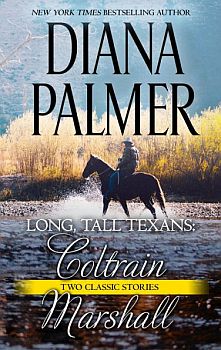 Long, Tall Texans Book 13 & 15
April 16, 2018
Harlequin eBook
New York Times bestselling author Diana Palmer revisits two classic tales of unexpected passion
Coltrain
(originally published as Coltrain's Proposal in the following: September 1995 in Silhouette Romance #1103; November 2001 within Long, Tall Texan Weddings anthology; July 2011 in Harlequin Essential Collection; and June 2005 in HQN 2-in-1 Burke & Coltrain)
Doctors Jebediah Coltrain and Louise Blakely have been arch-enemies for years. Ever since Louise's father had cruelly betrayed Jeb years ago, he's plotted his revenge—and he'll stop at absolutely nothing to get it. His plan? To convince lovely Louise to marry him, then to bring her and her family down for good. But the good doctor never counted on falling for his fake fiancée and breaking his own rules of engagement.
Marshall
(originally published as The Princess Bride in the following: March 1998 in Silhouette Romance #182 in mass market paperback and July 2011 in eBook)
Kingman Marshall knows he's too old, too jaded, and too burdened with secrets for fresh, youthful Tiffany Blair. And Tiffany's not the kind of girl for just one night of passion; she's an innocent, made for walking down the aisle to her groom. But Kingman is the only one Tiffany wants, and she'll stop at nothing to make him hers…forever!
Other Books in the Long, Tall Texans Series