Texas Proud & Circle of Gold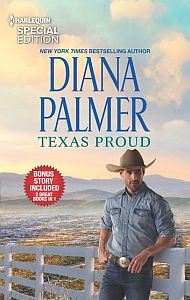 Long, Tall Texans Book 52
September 29, 2020
Harlequin Special Edition Mass Market Paperback, e-Book
Anthology
A powerful businessman seeks refuge
…but his secrets never stay hidden.
Before he testifies in an important case, businessman Michael "Mikey" Fiore hides out in Jacobsville, Texas. On a rare night out, he crosses paths with softly beautiful Bernadette, who seems burdened with her own secrets. He hears whispers about a life-threatening condition, her solitary existence. This doesn't stop him from wanting her, which endangers them both. Their bond grows into passion…until shocking truths surface.
Plus, a classic story from the Men of Medicine Ridge #1 series, Circle of Gold!
(originally published 2000 in a Silhouette Romance exclusive to eHarlequin.com and reissued September 2004 in mass market paperback and March 2009 in eBook as The Men Of Medicine Ridge: The Wedding In White\Circle Of Gold)
Sparks fly the moment Kasie Mayfield arrives at Gil Callister's sprawling ranch to care for his two adorable daughters. Gil is difficult to read, but he still sweeps her off her feet. Can Kasie convince the hard-edged widower that a circle of gold belongs on her finger?
Texas Proud also published published September 2020 as a standalone in mass marked paperback and eBook.
Other Books in the Long, Tall Texans Series