Invincible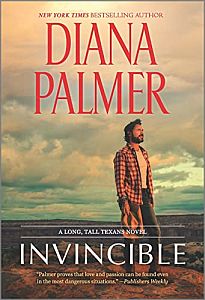 Long, Tall Texans Book 45
August 23, 2022
Paperback, e-Book
He's sworn to keep her safe
As her heart and her life are in danger
Mercenary by name and by nature, Carson stays to himself. The lone wolf never keeps women around long enough for anything emotional to develop. But working on a complex murder investigation provides Carson with another kind of distraction—his friend's sweet and innocent secretary, Carlie Blair.
Then Carlie lands in deep trouble. She witnessed something she shouldn't have, and now the face of a criminal is stored permanently in her photographic memory. As a result, she becomes the key piece of evidence that could implicate a popular politician in a deadly case.
Her only protection is Carson—the man whose presence sets her body ablaze. But when she learns that Carson is more than just a tough guy, Carlie realizes she's endangered herself further. Because now her only chance to live means losing her heart to the most dangerous kind of man…
Originally published July 29, 2014 in hardcover and audio and January 27, 2015 in mass market paperback & eBook.
Other Books in the Long, Tall Texans Series