Tony (Originally Silent Night Man)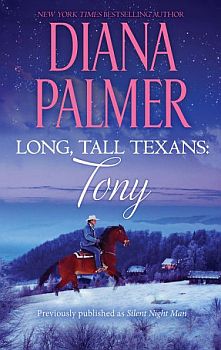 Long, Tall Texans
November 11, 2019
HQN eBook
New York Times bestselling author Diana Palmer revisits a tale of true love—also published in 2009 as Silent Night Man in the 2-in-1 collection The Winter Man —under the mistletoe…
What does Millie Evans want in her stocking for Christmas? Just one thing…to feel safe. Even though her stalker is dead, the lethal villain has arranged for a hit man to target her. Now the special government agent Millie has loved from afar for years has vowed to protect her. The man of her dreams seems finally within her grasp…even as her life is in danger.
In order to keep Millie safe, Tony Danzetta moves her into his home. He insists on keeping her in sight 24/7…but their proximity causes Tony to question what he really wants for the holidays. Can the agent keep Millie at arm's length—or will their secret connection blossom into a real happily-ever-after?
Originally published October 2008 as Silent Night Man in a collection of stories published in the United Kingdom entitled Married by Christmas and reissued as a standalone December 2015 in eBook and December 2015 within the 2-in-1 The Winter Man in hardcover and eBook.
Other Books in the Long, Tall Texans Series