Rodrigo (Originally Fearless)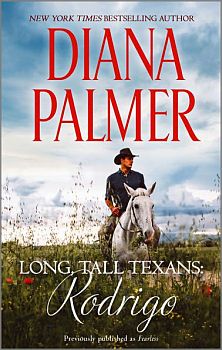 Long, Tall Texans Book 35
April 13, 2020
HQN eBook
Anthology
Vicious criminals jeopardize a growing bond in this beloved classic from New York Times bestseller Diana Palmer.
Sent undercover to a Texas farm, DEA agent Rodrigo Ramirez is faced with an unexpected challenge: new co-worker Gloryanne Barnes. Gloryanne is smart, savvy, and fiercely independent, but she comes under fire from the drug cartel Rodrigo is investigating. Posing as a ranch-hand, closed-off Rodrigo puts everything on the line to protect Gloryanne. But is his reckless offer of marriage just a means to completing his mission—or something more?
Originally published June 2008 as FEARLESS in hardcover and eBook; May 2009 in mass market paperback and June 2012 in eBook.
Other Books in the Long, Tall Texans Series