Courageous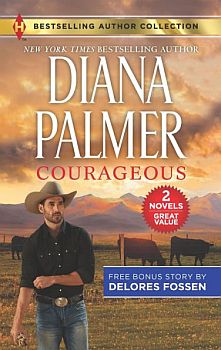 Long, Tall Texans Book 43
November 26, 2019
Harlequin mass market paperback, eBook
BESTSELLING AUTHOR COLLECTION
Reader-favorite romances in collectible volumes from our bestselling authors.
MAN FOR HIRE
Mercenary turned rancher Winslow Grange just wants a simple life. The last thing he needs is to be tempted by his boss's daughter. A woman's heart is dangerous territory, and when the past calls, he jumps at the chance to escape his growing feelings for Peg Larson. The former Green Beret will need all his training to help General Emilio Machado gain control of the tiny South American nation of Barrera.
But just as the conflict is getting heated, Peg arrives unannounced, and she's a tempting distraction Grange can't avoid. Peg's determined to show Grange she can be useful on and off the battlefield. Once she breaks through his armor, traversing the wilds of the Amazon will prove an easier task than defending himself against her winning charms…
FREE BONUS STORY INCLUDED IN THIS VOLUME: The Deputy Gets Her Man by USA TODAY bestselling author Delores Fossen (originally published February 2003 within Harlequin Duets #94)
Courageous was originally published July 2012 in hardcover and eBook and reissued April 2013 in mass market paperback.
Other Books in the Long, Tall Texans Series