Renegade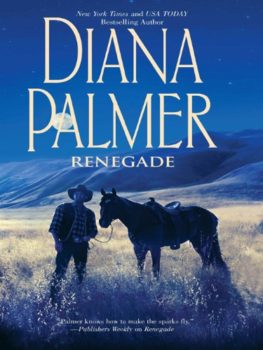 Long, Tall Texans Book 27
February 1, 2011
e-Book
For newly appointed police chief Cash Grier; life in rural southeast Texas was quite a departure from his former world of subterfuge and black ops. But as a true renegade, Cash had learned never to take anything at face value. Even now he sniffed an undercurrent of unrest in the air and made it his personal mission to keep law and order in the streets of Jacobsville. Complications arose when Cash found himself distracted by his traitorous desire for Tippy Moore—the "Georgia Firefly."
The combative barbs he'd once relished exchanging with his gorgeous sworn enemy no longer gave him the same satisfaction. Cash was stunned by Tippy's amazing transformation from "spoiled" Hollywood starlet to unassuming beauty who had almost as many skeletons in her closet as he did. Despite himself, the hard-edged Texan discovered a kindred spirit in this woman who was selflessly devoted to raising her beleaguered younger brother. Before long, Cash, a man who prided himself on self-restraint,
found himself powerless to resist their explosive chemistry.
Just as Cash was beginning to believe that Tippy might be the one for him, an unforgivable betrayal ripped them apart, spiraling them in different directions, leading to despair—and unexpected danger. Yet even as Cash licked his wounds, sharply hewn instincts alerted him that Tippy was in grave jeopardy. In a race against time, he rode to the rescue after Tippy courageously sacrificed herself to secure her brother's freedom when the boy was used as a pawn in a deadly moneymaking scheme. In the aftermath of her harrowing ordeal, the Tippy Cash whisked home would not be the same woman he'd coldly turned his back on. Now all roads led to this one pivotal moment that would test the very fabric of a love that had once known no bounds….
Originally published August 2004 in hardcover, June 2005 in mass market paperback and February 2011 in trade paperback.
Other Books in the Long, Tall Texans Series