John and Matt (Originally The Founding Father and Matt Caldwell: Texas Tycoon)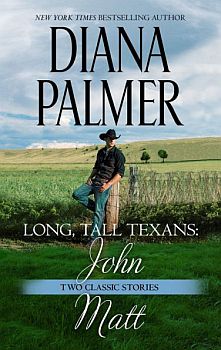 Long, Tall Texans Novellas .5 & 19
September 10, 2018
Harlequin eBook
Join New York Times bestselling author Diana Palmer for two fan-favorite tales of Long, Tall Texans, past and present
John
(originally published December 2003 within A Hero's Kiss anthology by Harlequin in mass market paperback and October 2015 as The Founding Father in eBook by HQN)
Return to Jacobsville to learn how legends were made…When the town's founding father, Big John Jacobs, weds the daughter of a prosperous railroad tycoon, sparks fly. Will passion blaze when the fortune-seeking Long, Tall Texan brands his sweetly unassuming wife with his soul-searing kisses?
Matt
(originally published January 2000 as Matt Caldwell: Texas Tycoon in Silhouette Special Edition #1297 in mass market paperback and November 2014 in eBook by HQN)
Rugged tycoon Matt Caldwell has no intention of ever trusting a woman again—that is, until his new assistant walks through his door. On the run from her past, Leslie Murray struggles to keep herself out of aloof Matt's strong arms. Could the innocent beauty be the one to make Matt's protective walls crumble and bring love to his life?
Other Books in the Long, Tall Texans Series