Texas Born & Smokin' Six-Shooter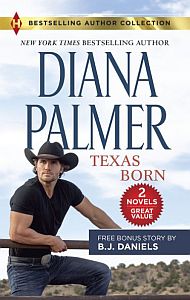 Long, Tall Texans Book 46
February 23, 2021
Harlequin Mass Market Paperback, e-Book
Anthology
BESTSELLING AUTHOR COLLECTION
Reader-favorite romances in collectible volumes from our bestselling authors.
Texas Born by New York Times bestselling author Diana Palmer
(originally published October 2014 in Harlequin Special Edition #2359 in mass market paperback and eBook)
Ever since Gabriel Brandon rescued her from a dark future, Michelle Godrey looked up to the rancher as her personal hero. Protecting her all her life, Gabriel served as Michelle's guardian angel—saving her from a broken family, supporting her and encouraging Michelle to go to college. Even as Michelle felt herself start to fall for her protector, both of them could agree the timing wasn't right.
But four years later, Michelle is grown up and ready to work. An assignment takes her away from their hometown of Jacobsville, Texas, and she begins uncovering secrets from Gabriel's past. Mysterious as he is, Michelle is determined to cast aside the shadows that threaten to swallow them and prove to Gabriel that their Lone Star love is true.
FREE BONUS STORY INCLUDED IN THIS VOLUME: Smokin' Six-Shooter by New York Times bestselling author B.J. Daniels (originally published September 2009 in Harlequin Intrigue #1155 in mass market paperback and eBook)
Other Books in the Long, Tall Texans Series