The Founding Father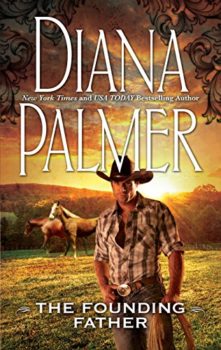 Long, Tall Texans Novella .5
October 16, 2016
e-Book
From New York Times bestselling author Diana Palmer revisits the story of the original Long, Tall Texans: the legendary man who built Jacobsville and the cowgirl who tamed him!
Big John Jacobs is eager to expand his growing Texas ranch, but he needs the help of the local railroad baron. Unable to sway his prospective partner with his business offer, John offers a proposal of another kind— a marriage of convenience to Camilla Colby, the tycoon's debutante daughter!
Camilla knows John only married her for her father's money, but she wants more than a bond in name only with her new husband. But will passion blaze when this fortune-seeking Long, Tall Texan brands his sweetly unassuming wife with his soul-searing kisses?
Originally published December 2003 within A Hero's Kiss anthology (with Judith Stacy & Mary Burton) by Harlequin in mass market paperback.
Other Books in the Long, Tall Texans Series