Lawman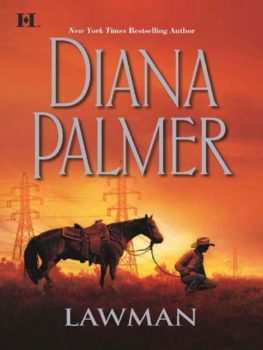 Long, Tall Texans Book 32
May 1, 2008
Paperback, Audio, e-Book
When San Antonio FBI agent Garon Grier buys a ranch in Jacobsville, Texas, the strong, silent loner is hoping to mend some broken family fences. He's not looking for love when he finds an unexpected, unwanted attraction to the girl next door, a shy, lovely woman who believes some secrets are best kept hidden. But the truth will prove just as dangerous when Garon tackles the most difficult case of his  career, hunting an escaped convict, a child predator whose former victims are all dead. All except one.
Grace Carver grew up in this quiet Texas town. She works as a cook at the local caf and nurtures a spectacular garden in the home she shares with her elderly grandmother. She remains unmarried and untouched because of a past darkened by tragedy. Now, at only twenty-five, she's accepted loneliness
as a way of life. That is, until Garon.
But only when fear and uncertainty collide in reckless heartbreak does Garon fully realize what he's found with Grace—and what he may have lost. Because his hunt for a killer has led him to the last person on earth he would ever have expected to be the one who had escaped death at the hands of a madman. And now a desperate lawman and a proud woman must decide if secrets will come between them forever…or free them to love.
Originally published June 2007 in hardcover.
Other Books in the Long, Tall Texans Series