Emmett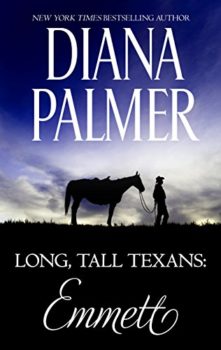 Long, Tall Texans Book 10
January 15, 2018
Harlequin e-Book
A Texas beauty lassoes herself a family in New York Times bestselling author Diana Palmer's Long, Tall Texans: Emmett.
For single dad Emmett Deverell, moving to Jacobsville, Texas, means spending more quality time with his young family. But wrangling three children solo is no easy feat, even for a Long, Tall Texan. The solution? Find a tender touch to help tame his brood. It soon becomes clear to Emmett that Melody Cartman is the only woman for the job…but he doesn't trust her in the least. Can Emmett let down his guard and allow Melody in, forming the perfect family they've always wanted?
Originally published January 1993 in Silhouette Romance #910 in mass market paperback and April 2011 in eBook by Harlequin Essential Collection.
Other Books in the Long, Tall Texans Series