Calhoun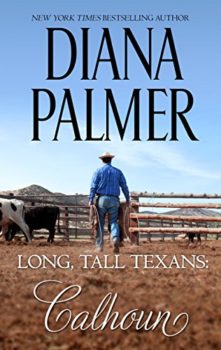 Long, Tall Texans Book 1
June 12, 2017
e-Book
Head back to Jacobsville, Texas with this fan-favorite Long, Tall Texans romance, originally published as Calhoun in 1988, from New York Times bestselling author Diana Palmer!
Orphaned as a child, Abby Clark learned not to rely on many people—except the Ballenger brothers, who were her rocks and her providers. But she's not the little girl they once knew. Now, nearly twenty-one years old, Abby is a woman grown, and she knows what she wants: sexy cattleman Calhoun Ballenger. He insists on keeping her under his thumb, so Abby resolves to teach Calhoun a lesson. With the fury of a South Texas twister, she devises a plan to prove her independence—and capture his attention. Can Abby make Calhoun her very own cowboy?
Originally published June 1988 in Silhouette Romance #580 and reissued in several editions of Long Tall Texans (3-in-1 anthology with Justin and Tyler) by Silhouette.
Other Books in the Long, Tall Texans Series