Blake (Originally Boss Man)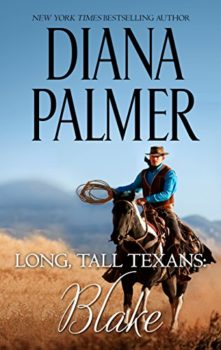 Long, Tall Texans Book 29
February 12, 2018
Harlequin e-book
New York Times bestselling author Diana Palmer revisits a classic tale of second-chance love in Long, Tall Texans: Blake, originally published in 2005 as Boss Man.
Tough Texan Blake Kemp considers himself first and foremost a man of the law. He will stop at nothing to avenge the death of the women he loved long ago, even if that means breaking some rules along the way. Despite his best efforts, Blake can't deny his growing feelings for his shy but beautiful assistant, Violet. But can his burgeoning passion replace his need for revenge?
Originally published November 2005 as BOSS MAN in Silhouette Desire #1688 and reissued May 2008 in mass market paperback.
Other Books in the Long, Tall Texans Series