Long, Tall Texans Collection Volume 5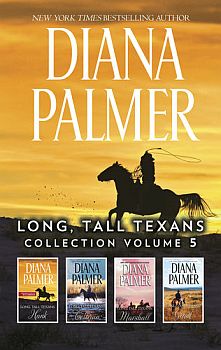 Long, Tall Texans Book 12.5,13,13.5,15
April 14, 2018
Harlequin eBook
Box Set
Join New York Times bestselling author Diana Palmer with four classic Long, Tall Texans tales, plus USA Today bestseller Rita Herron's fan-favorite tale of a rancher on the run.
Hank
(originally published March 1995 as Redbird within the mass market paperback Abduction & Seduction anthology by Silhouette Books; October 2011 as Redbird within the eBook anthology Long, Tall and Tempted by Harlequin; December 2014 as Redbird in a standalone eBook by Harlequin and March 2018 as Hank in a standalone eBook)
After years of heartache and drama, Hank Shoeman has come to one conclusion…love is nothing more than a nuisance! He has retreated to a secluded Colorado cabin, eager to be away from the pesky outside world…and the hurt that came with it. Instead, Hank is distracted by a beautiful young woman—and gets so much more than he ever bargained for…
Coltrain
(originally published September 1995 as Coltrain's Proposal in Silhouette Romance #1103 in mass market paperback; July 2011 as Coltrain's Proposal in Harleqin Essential Collection; and April 2018 as Coltrain in a standalone eBook)
Doctors Jebediah Coltrain and Louise Blakely have been arch-enemies since Louise's father had cruelly betrayed Jeb years ago. Jeb will stop at nothing to get revenge, plotting to convince lovely Louise to marry him, then to bring her and her family down for good. But the good doctor never counted on falling for his fake fiancée and breaking his own rules of engagement.
Marshall
(originally published as The Princess Bride in the following: March 1998 in Silhouette Romance #182 in mass market paperback and July 2011 in eBook and in Coltrain and Marshall April 2018 in eBook)
Kingman Marshall knows he's too old, too jaded, and too burdened with secrets for fresh, youthful Tiffany Blair. And Tiffany's not the kind of girl for just one night of passion; she's an innocent, made for walking down the aisle to her groom. But Kingman is the only one Tiffany wants, and she'll stop at nothing to make him hers…forever!
Grant
(originally published October 1996 as Paper Husband within Husbands on Horseback 2 in 1 Harlequin Romance #3427; November 2001 as Paper Husband within Long, Tall Texan Weddings anthology; and May 2018 as Grant in a standalone eBook)
Dana Mobry has worked her family's Texas ranch her entire life. Where does it say a rancher's daughter has to marry a long, tall Texan—or lose her cherished home? In her father's will—and Dana's just discovered that her partner in this marriage of convenience is none other than the sexiest cowboy in Texas, Hank Grant!
Also includes Ultimate Cowboy by Rita Herron (originally published February 2013 in Harlequin Intrigue #1401 in mass market paperback and eBook).
Other Books in the Long, Tall Texans Series