Long, Tall Texan Legacy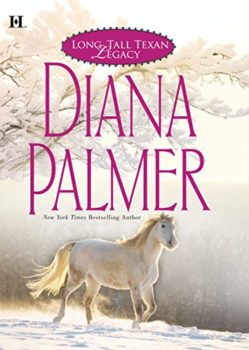 Long, Tall Texans
August 17, 2015
e-Book
Box Set
New York Times bestselling author Diana Palmer delivers two reader-favorite tales of cowboys on the range!
THE FOUNDING FATHER (originally published December 2003 in the Harlequin anthology, A HERO'S KISS in mass market paperback)
Discover how legends were made when Jacobsville founding father Big John Jacobs weds the daughter of a prosperous railroad tycoon. Will passion blaze when the fortune-seeking Long, Tall Texan brands his sweetly unassuming wife with his soul-searing kisses?
JUSTIN (originally published July 1988 in Silhouette Romance #592 in mass market paperback)
Justin Ballenger was jilted by Shelby Jacobs, privileged daughter of the Jacobsville fortune, for a wealthy playboy. After six resentful years, Shelby returned, penniless and alone. It was Justin's turn to sneer, but honor wouldn't allow it. He was sure he could never trust her again, but that old flame burned hotter than a three-alarm brush fire-and Shelby had a secret that only fanned the flames.
Originally published November 2007 in hardcover by HQN.
Other Books in the Long, Tall Texans Series