Long, Tall Texans Series Books 4-6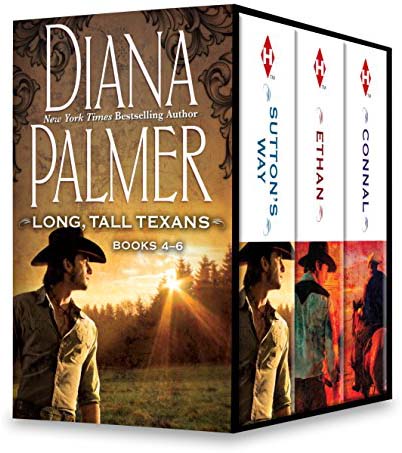 Long, Tall Texans
March 14, 2016

Box Set
Saddle up for true love as New York Times bestselling author Diana Palmer revisits three classic Long, Tall Texan heroes!
SUTTON'S WAY
Wyoming rancher and single father Quinn Sutton is raising a child he knows isn't his own. All the love left in his guarded heart goes to the boy. But when a beautiful city woman is stranded nearby in a blizzard, he rescues her and brings her to Ricochet Ranch. Amanda Callaway has her own secrets and plans to keep her distance. If only she weren't falling for her unlikely hero…
ETHAN
Arabella Craig was eighteen when Ethan Hardeman had opened her eyes to passion… then married another woman. Four years later, Ethan was back running his family's cattle empire. He was just as tall and handsome, but he was now divorced and embittered. Except when it came to Arabella. Living day to day with him brought back all the passion… and pain. Ethan was so near, yet he refused to loosen the reins that held back his heart. But Arabella was determined not to let him escape her again….
CONNAL
Penelope Mathews spent her entire adolescence worshipping the elusive C.C. Tremayne—from afar. Until one night, trying to protect the mysterious loner from landing in jail after he drank a little too much, Penelope was forced to seek refuge in a wedding chapel—and wound up married! When C.C. realized what had happened, he was outraged. The marriage was off; he'd see to an annulment immediately. Yet the more time he spent with her, the more he realized he didn't want a divorce… he wanted forever.
Other Books in the Long, Tall Texans Series